Where Cartridges are Seen, Not Hidden!
Where information is Shared Freely!
Where Cartridges are Free for all to See!
Where Cartridges are Seen, Not Hidden!
Welcome to FreeMyCollection.com! The whole premise of this site is to share my collection of antique guns and ammunition with the world. What fun is having a collection if others do not also get to enjoy it? Take a look around, read an article or two, view a few images and learn something new!
Blog Page:
1
|
2
|
3
|
4
March 14, 2018
I have finally added the last specimen needed to now have an example of all three pistol designs by Casimir Lefaucheux. On 16 Jun 1832 Casimir Lefaucheux filed for patent no 1832 in France for protection of his breechloading design … Continue reading →
Here is a neat little pinfire carrying bracelet I picked up recently. It is all leather with a brass clasp and securely holds 13 cartridges!
February 12, 2018
This is an example of one of the scarce pinfire boxes made by Société Française des Munitions for the Norwegian military as well as one of the Norwegian military Lefaucheux pinfire revolvers. In 1859 the Norwegian Navy ordered a handful … Continue reading →
May 6, 2017
This is a 9mm Javelle patent pinfire revolver manufactured by Verney-Carron of St. Etienne, France somewhere around the late 1850s to early 1860s. He designed this gun to allow easy removal of the cylinder. His intentions were that people could … Continue reading →
August 10, 2016
This is the earliest version of the pinfire pepperbox revolver manufactured by Casimir Lefaucheux around 1845-1846. Lefaucheux "borrowed" the action from Guillaume Mariette of Liège, Belgium who made a percussion pepperbox a few years prior. Casimir's patent modified it to … Continue reading →
August 16, 2015
This is a double-action-only 7mm pinfire revolver made by Eugene Lefaucheux in Paris, France. It follows his patent from 07 June 1858. On the barrel is inscribed: DUMOULIN ARQer À ROUEN Dumoulin was a gun maker (arquebusier; ARQer) and gun … Continue reading →
July 10, 2015
I have finally acquired a .58 Schubarth! It is one of the more desirable American cartridges and seems to trade for insane prices. There are only around a dozen known to exist. It was patented and made in 1861 by … Continue reading →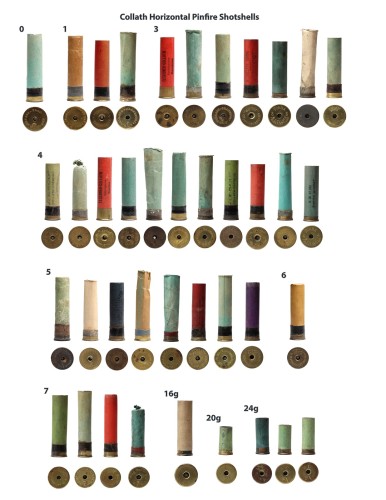 Wilhelm Collath invented a shotshell variation that had a small pin that rested in a percussion cap half an inch into the case. The wider centerfire hammer would hit the pin which knocked it into the cap to set it … Continue reading →
July 8, 2015
In March of 1938, the "Anschluss" took control of the company, Hirtenberger Patronen Zunhutchen & Metallwarenfabrik A.-G. of Hirtenberg, Austria and incorporated it into the Wilhelm Gustloff Foundation, which was a group owned by the Nazi Party. On April 29, 1939 … Continue reading →
July 3, 2015
Here are some pinfire cartridges with explosive bullets. The two on the right are definitively made using Eugene Pertuiset's patented formula by SFM. The rest are also thought to be. In the late 1860s a Frenchman names Eugene Pertuiset developed … Continue reading →
Page:
1
|
2
|
3
|
4